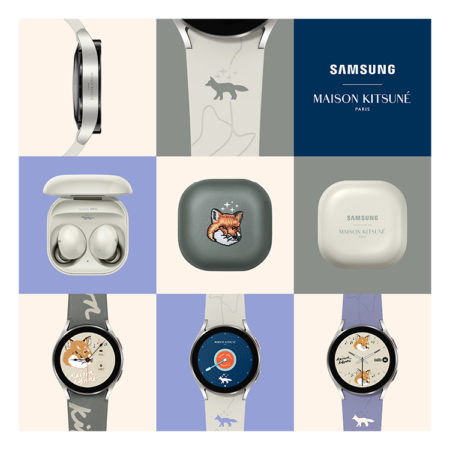 What do you get when a multi-faceted lifestyle brand joins forces with tech? Wearable devices that showcase your personal style.
Reimagined products. Creative synergy and spirit. By embracing openness, Samsung and Maison Kitsuné go beyond the ordinary with their new collaboration—the Galaxy Watch4 and Galaxy Buds2 Maison Kitsuné collection.
By putting fashion and music front and centre, these wearable devices encourage authentic expression and a rich imagination.
ONLY AVAILABLE IN EUROPE
shop
Where industries collide
Maison Kitsuné embodies creativity, innovation and versatility, thriving on collaborations to reimagine their products. Co-founders Gildas Loaëc and Masaya Kuroki created a vision in which different mediums seamlessly came together—which is where Samsung's pioneering technology came into play. "We love to get involved in new projects that will keep our Maison Kitsuné fans interested and excited, and that allow us to explore different markets to touch new audiences," Loaëc and Kuroki say.
As ever-evolving brands with a unified vision, Samsung and Maison Kitsuné targeted the intersection of technology, music and fashion. The Maison Kitsuné signature Fox represents pushing boundaries as it shifts playfully from fashion symbol to unexpected tech icon. With this inspiration in mind, the Fox became a focal point of the design, acting as a fun companion throughout the journey.
A different dimension of design
The mythical animal fluidly works its way into the devices. The result is a customisable experience that lets you express your style and originality through wearable technology.
The GalaxyWatch4 and Buds2 Maison Kitsuné collection encompasses a clean yet futuristic aesthetic. Loaëc and Kuroki sought to take users on a journey to outer space, which is reflected in the colours and configuration. The unique design extends to the user interface, where users can access an exclusive Maison Kitsuné phone theme via Galaxy Friends to style their devices and look of the day.
Now your phone can be as stylish as you are with the exclusive Maison Kitsuné theme.
The Galaxy Watch4 Maison Kitsuné Edition
Meet your new companion in the Maison Kitsuné Galaxy Watch4, styled to fit your personal preferences and elevate your everyday.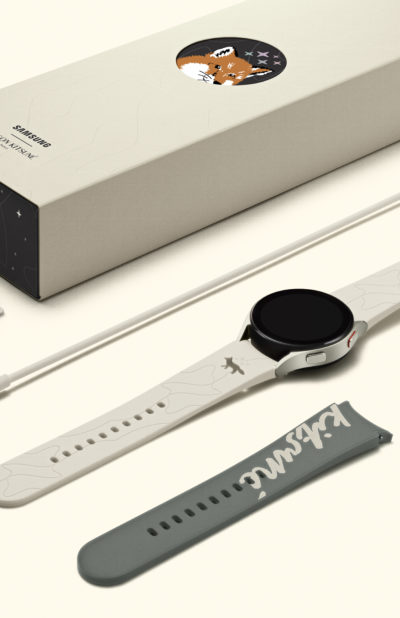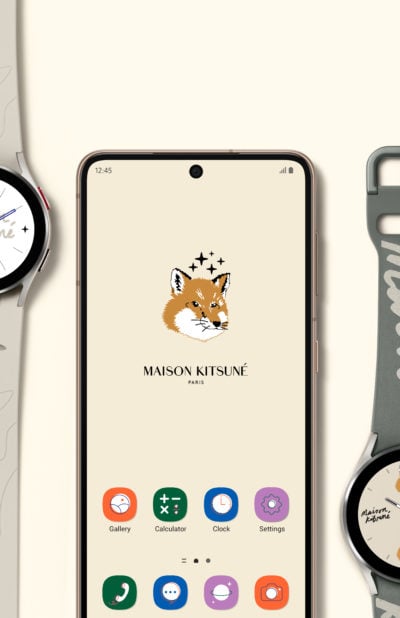 Select your style
Unbox a complete experience with two customised straps and a magnetic charger. The first is a rubber strap in Moonrock Beige with a celestial pattern and custom Fox cutout. The second strap is Stardust Grey leather and boasts the 'Maison Kitsuné Handwriting' logo.
Embrace elegance
The GalaxyWatch4 Maison Kitsuné edition blends with your individual style. The watch body, complete with a soft sanding finish and engraved logo, is attached seamlessly to the Moonrock Beige strap.
Design your day
Customise every detail of your watch face by choosing from preloaded backgrounds, hands and indices that enable you to make your Galaxy Watch4 Maison Kitsuné edition uniquely yours.
Complete the look on your phone
With the Galaxy Friends, you can change your Galaxy phone theme to an exclusive Maison Kitsuné design just by tagging your NFC card to your device.
Galaxy Buds2 Maison Kitsuné Edition
Experience a new world of sound with the innovative design of the Galaxy Buds2 Maison Kitsuné edition.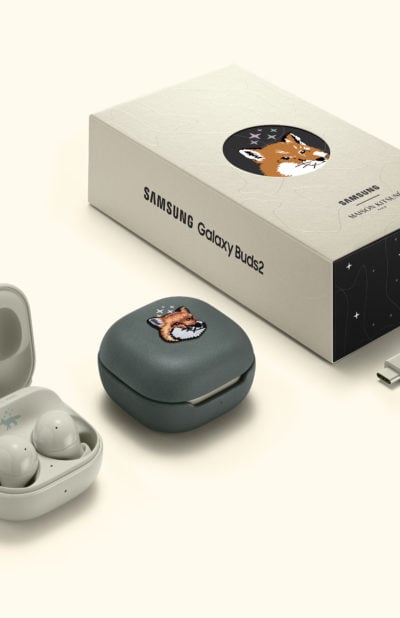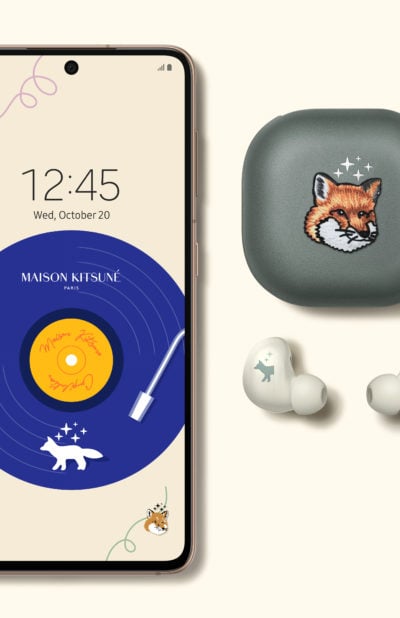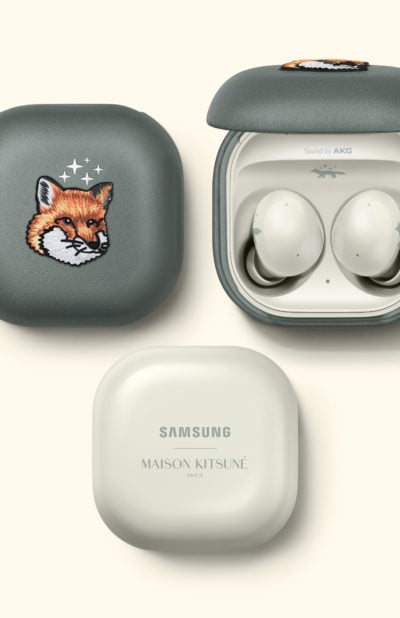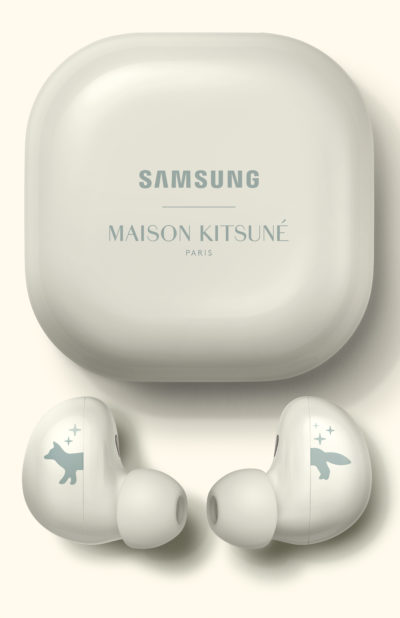 Open the portal to new experiences
Start your adventure by unboxing galaxy-themed packaging, then follow the fox throughout the intergalactic design of the custom cases and charging cable.
Colourways that tell a story
Aesthetically pleasing design is prominent throughout, down to the Galaxy2 Buds' case and case cover. The Moonrock Beige charging case and Stardust Grey leather case are printed with a reinterpretation of Maison Kitsuné's "Fox Head" logo taking the listener on a sensory journey.
A playful expression
With one half of the Fox on each Moonrock Beige–coloured bud, the swift patterns of Maison Kitsuné's signature logo  flow from one ear to the other.
Music is a tap away
Tag the leather case of your Galaxy Buds2 Maison Kitsuné edition to your Galaxy device to access the exclusive theme, including a lock screen shortcut to the 50-track Maison Kitsuné x Samsung playlist curated by Kitsuné Musique label.
Turn up an out-of-this world experience
Feel the vibe of a pop playlist specially curated by Kitsuné Musique label to celebrate the Samsung x Maison Kitsuné collaboration.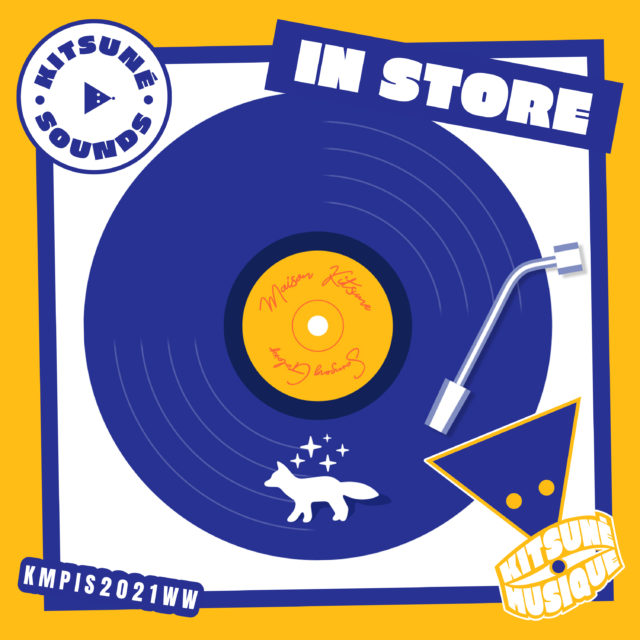 PLAY