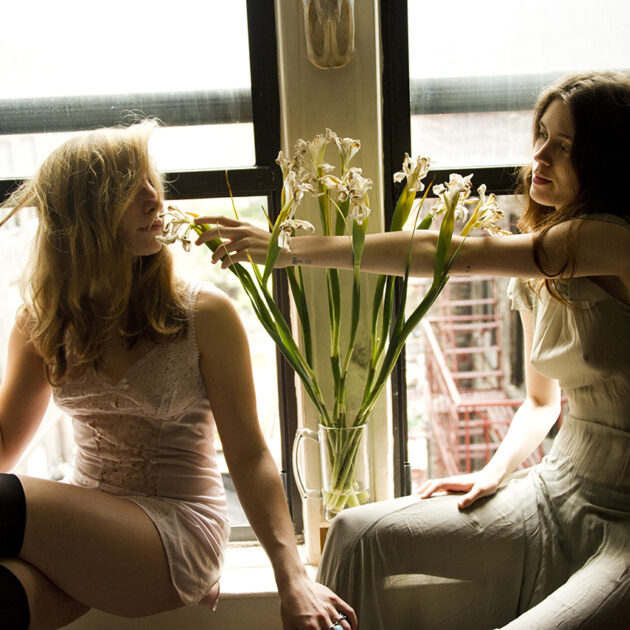 Beau, in both English and French, is a statement on external beauty and what goes on underneath. Their work can get muddled, but it maintains openness to interpretation.
They embody both the confidence and fragility of 20 year-old young women. For them, starting a band was the vital, necessary thing to do. And no matter what, they are determined to make it at any cost. Immersed in art and culture, music quickly became a way of expressing themselves. Chatting with Heather and Emma you can imagine Francesco Clemente rubbing shoulders with Bernardo Bertolucci, Allen Ginsberg sharing a drink with Bukowski, and the Kinks jamming with Drake.

When they eventually met Gildas Loaëc, founder of Kitsuné, they recorded their first tracks between London and Nashville with producer Al O'Connell.

Their first EP showcases Beau perfectly, with some infinitely sad love song, hopeful one, and hits that is somewhere between Warpaint and The White Stripes.

The following step in march 2016 is their debut album : 'That Thing Reality'. The album, which channels an angst and poetic vibrancy not seen since the likes of Patti Smith and Joni Mitchell, comes straight from the heart of two girls who have grown up surrounded by the arts and music of a city that has spawned some of the greats.

Beau is a snapshot. It's a prism through which we see and understand New York youth rocked by their hope and illusions. It's where the strange and glamorous live alongside one another, but where all dreams are valid, and where still waters run deep.